Falck Cancer Center in Elmira, New York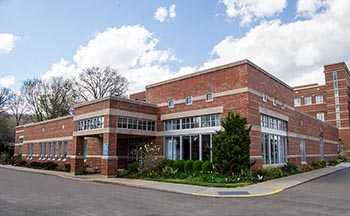 For over 30 years Falck Cancer Center has been providing compassionate care for cancer patients in the Southern Tier. In 2016, the center began collaborating with UR Medicine's Wilmot Cancer Institute in order to provide local patients access to a broader range of services and specialists. We are dedicated to providing timely and expert care and to continually transforming cancer care in our region.
Through our collaboration with UR Medicine's Wilmot Cancer Institute, providers and staff at the Falck Cancer Center gain access to outstanding resources and expertise. Wilmot is a leader in the development of new therapies and treatments, providing precise, personalized care and helping patients to the best possible outcome.
Patients at Falck benefit from University of Rochester's latest research and may have the opportunity to participate in clinical trials. And since Falck and Wilmot collaborate, patients who require treatment at Wilmot will make an easy transition to the Rochester facility.
Leading Technologies
The Falck Cancer Center invests in new technologies to improve treatment and reduce side effects.
The Varian TrueBeam Linear Accelator is a breakthrough technology in radiation therapy delivery and enables us to provide advanced noninvasive treatments to a greater range of patients. Clinicians are able to tailor cancer treatments that are best for the patient's condition using less radiation, delivered more accurately in less time. Treatment techniques include:
Image-guided radiation therapy (IGRT) enables more precise aim of the radiation beam, maximizing the dose to tumors while minimizing the dose to surrounding tissues.
Intensity modulated radiation Therapy (IMRT) allows the intensity of the radiation to be adjusted during treatment to conform to the specified tumor volume.
Stereostatic body radiotherapy (SBRT) Targeted radiation to tumors outside the central nervous system delivered with millimeter precision.
Comprehensive, Patient-Centered Care
A select team of dedicated professionals provide surgical, medical and radiation oncology, nutritional counseling, exercise physiology, spiritual counseling, medical social work, financial counseling, psychological support, complementary therapies and more.
Support groups, outreach services and affiliations with the University of Rochester Wilmot Community Oncology Network and the Southwest Oncology Group, the American Cancer Society and Hospice programs round out the Center's spectrum of care.
Community Outreach and Education
The Falck Cancer Center offers a wide range of prevention and health screening programs that are free to the public. Go to Events.
Friends and Volunteers at Falck Cancer Center
Our community supports the Falck Cancer Center, our patients and staff as volunteers and donors.
The Arnot Ogden Medical Center Foundation accepts donations and organizes events to provide for the Falck Cancer Center. Learn more: Friends and Donors
We're Here to Help
To speak with a registered nurse 8am - 8pm daily, call Health on Demand at 607-737-4499.